About Ready. Set. Gov!
Ready. Set. Gov! is the free, easy-to-use website management tool for county, city and town governments. Now every Maine county, city, and town can have a web page or site as part of Maine.gov.
You can use Ready. Set. Gov! at two levels:
Basic: Just keep your basic information up to date, including a link to an existing website if you have one. Your participation will enhance the ability of citizens to locate municipal information through Maine.gov.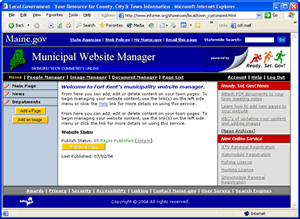 (The Ready. Set. Gov! website management tool is user-friendly and easy to use.)
Expanded: If your county or town does not have a website, you can use Ready. Set. Gov! to add pages, images, documents, and links to create a full- featured website.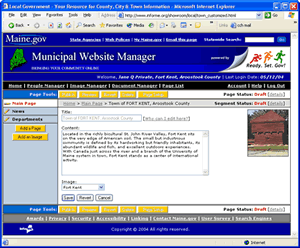 ( Editing and adding content is quick and simple.)